Enjoying The Third Twin
Description:
Click on Image to Enlarge
SUBJECT: There's nothing quite like sitting down with a good book and a fine glass of wine on a cold winter's day while the wind and rain swirl around outside; even better if the book is by a top author. The artist created this still life study to include Ken Follett's 1997 edition of The Third Twin (for which her son modelled the book cover), a greyhound-lying-on-a-book ornament (her favourite dog breed), and a nice bottle of Beaujolais-Villages.
ORIGINAL ARTWORK: Watercolour [Reserved]
PRINT OPTIONS AVAILABLE: See drop-down list.
Mounted Print: Giclée on 300gsm Fine Art Paper using long-life pigment inks. Supplied in an archival quality off-white mount, ready for framing.
Canvas Print: Giclée on 350gsm Premium Satin Canvas using long-life Pigment Inks; gallery wrapped* over kiln dried pine stretcher, 19mm deep, with traditional corner joints and wedges
Framed Canvas Print: Canvas Print (as described above), set in a Floating Frame (13mm profile and smooth silk finish). Canvas floater frames give the illusion the canvas print is floating in the distinctive space within the frame. A small gap between the canvas and the frame allows the wrap edges of the canvas to be seen. (BLACK or WHITE frame options)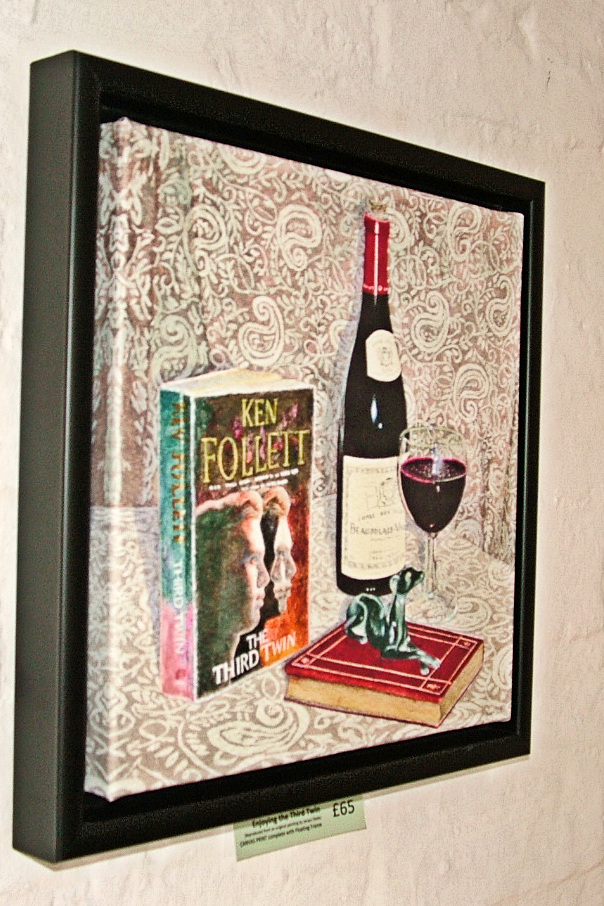 [* Gallery Wrap means the print image is reflected on each edge of the canvas]